Dear Amma and Appa,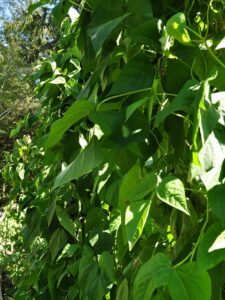 I was contacted yesterday by the Wildlife Specialist for this part of Viridia.  He has asked me, since that was my profession on Terren, to accompany him on a survey of the local cerastaper population.  They're kind of along the lines of wild boars, only their tusks are longer and there are three of them, not just two.  Shudder. 
I thought my husband would tell me to stay home like a good little keepwife, but he just gave me this odd look and said, "Well of course you should go.  It's your job."  So I guess I'm off to the wilds of Viridia in a couple of days.  Apparently the cerastapers have been raiding along the outskirts of several of the big phaselus operations, and there is some concern that someone could be injured if they surprise one.
As you know, phaselus, along with alcibus, forms a big part of the Equi diet, and we have several varieties in our own garden here at Canyon keep.  This recipe is something that Ah'rane fixes often, as it is quick, and one of Krush's favorite ways to eat fresh, annual phaselus.  The golden pole beans you have access to at home are very close cousins and will do nicely for this.  It only takes about ten minutes to fix.  I hope you like it. 
Your Soon to go Adventuring Daughter,
Ah'ree


FRESH SAUTEED POLE BEANS
You will need fresh beans, snapped and, if you wish, blanched for three minutes in boiling salted water. 
1 good tablespoon of sesame seeds per half pound of beans
2 tablespoons of soy sauce per half pound of beans
1 tablespoon of sliced fresh garlic cloves per half pound of beans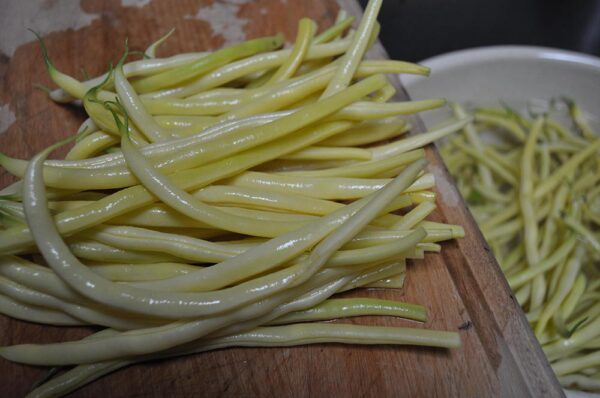 In a wok, heat one tablespoon of butter with one tablespoon of olive oil until it begins to smoke.  Add the garlic cloves and stir quickly until they are brown and fragrant.  Add the beans and continue tossing for about four minutes.  Add the sesame seeds and the soy sauce and make sure the beans are well coated with both before serving. 
I know this is embarrassingly simple, but it is SO good!  It seems to fit well with your OE traditions of Oriental cooking, which I know you love and value as part of our family heritage.  All my love, Ah'ree