Dearest Eomeoni and Appa,
Please don't be so worried about me!  I am feeling fine, and my husband and his family take very good care of me.  We have the harvest pretty well laid in at this point, and since it is harvest break for his students, Ardenai took me for a trip.  We went all the way to Calumet, which is a fascinating planet.  Energy can be generated, but not transmitted, so that world has existed without change for many hundreds of years. 
Many of the Terren Amish-Mennonites settled here after the cataclysm, and it seems to suit their lifestyle well.  The citizens ride horses, or use buggies or cycles to get around, and the keeps and villages are especially close-knit.  The people seem to be exceptionally self-sufficient, and watching them move through their well-ordered days was fascinating for me.  I got to watch the keepfolk where we stayed make their grain meat sausages. They made a dish so delicious it makes one smile in one's sleep, as my husband would say, and when I asked, they shared this recipe with me. It uses several of their staple crops, and, of course, grain meat sausages!
Think of me when you make this, and know that I am happy, snuggled in for the coming cold, and very much in love. 
As Ever Your Obedient Child (ha ha)
Ah'ree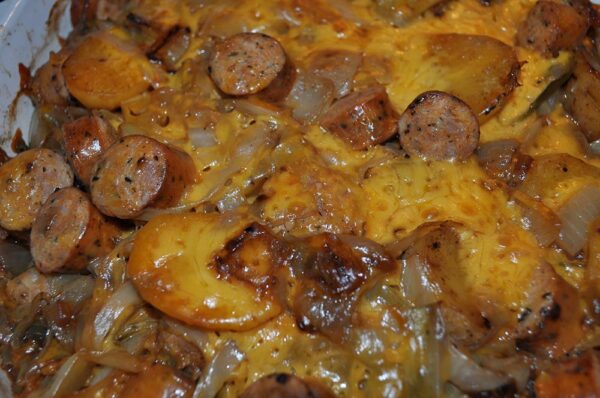 WINTER POT
You will need a nice, firm head of caulis (cabbage), sliced thin.
Kartfels, (potato), sliced into thin rounds.
Alliums (onion), sliced into thin rounds or slivers
 Garlic, chopped.
Two handfuls of sharp cheese, shredded
Salt and pepper
Two tablespoons of broth concentrate
Two tablespoons or so of butter
Grain meat sausages, cut into bite sized chunks. (A note from Earth – try to find apple sage sausages from the Field Roast Grain Meat Company in Seattle, Washington.)
In a large, heavy skillet or Wok, melt about a tablespoon of butter and let it get hot and brown a little bit.  Add the sausages and cook them for about four minutes, until they release their oil and flavor, then set them aside in a large, buttered casserole dish.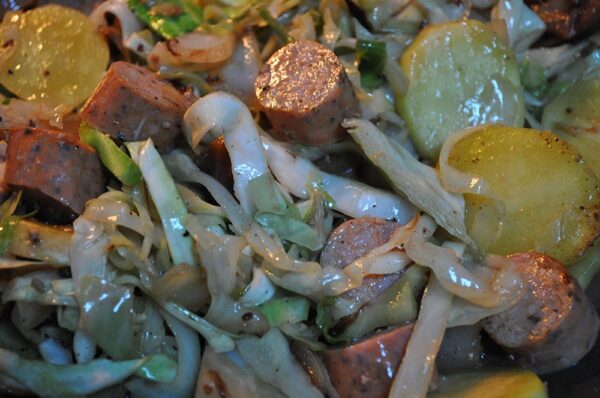 In the same skillet, stir in the cabbage and toss to coat, adding a little butter if necessary, along with the two tablespoons of concentrated broth.  Make sure the broth melts and is distributed evenly.  Cook the cabbage until it wilts and pour it into the casserole dish.
Do the same with the onion/garlic combination.
Fix the potatoes in the same manner, allowing them to brown and crisp up.  Give them a good sprinkle of salt and freshly ground black pepper and add them to the casserole dish.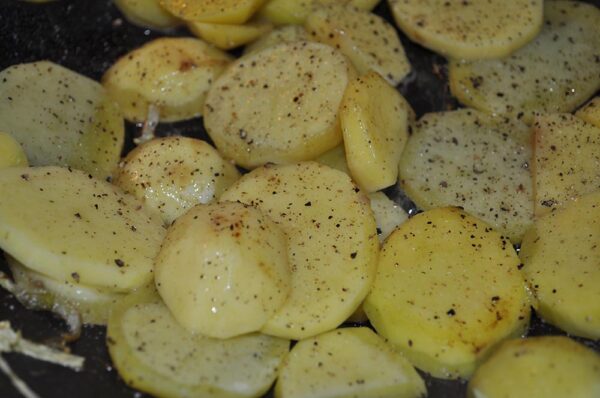 Allow them to cool just enough to handle and carefully, with well washed and buttered hands, gently toss everything together along with one handful of the cheese.
Put the other handful of cheese on top, put the lid on the casserole and bake it in a 350 degree oven for about 45 minutes.