Dear Eomeoni,
I know, because Appa was part Equi and so were you, that we kind of followed the "six meals a day" rule in our house.  Here at Canyon keep, we follow it.  Period.  Two breakfasts, two lunches, two dinners, all about two and a half or three hours apart. 
In this house first breakfast is usually quick, as people run out to do morning chores or head off to school. Second breakfast is more leisurely.  Ardi has second breakfast with his students each day.  This is something he enjoys for first breakfast, along with one or two of his sister's famous flatwraps.  I like it, too.  It takes a while to make up, but it lasts a long time once you have it.  I think it is what you would call grain-ola.  Here it is simply Harvester's Breakfast.
Give Appa a big hug for me and have him give you one from me!  I love you both.
Ah'ree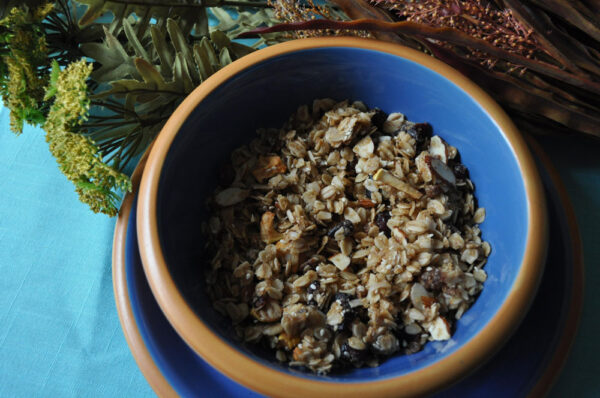 HARVESTER'S BREAKFAST
5 cups of rolled perennial alcibus (I'll bet you could use oats just as easily)
3/4 cup of firmly packed brown sugar
1/2 cup hemp seeds or hemp hearts
½ cup each chopped and dehydrated: apricots, pomes (apples) coconut, sesame seeds, cranberries and dates. (Any dried, chopped fruit works in this, and the more the better.  My husband is fond of candied ginger in his.)
½ cup of honey
½ cup ammons (almonds) and ½ cup sun flower seeds without the hull (of course). Like the fruit part of this, any nuts or seeds would probably work, though the Equi are crazy for both ammons and sun flower seeds and use them for everything.
1/3 cup sun flower or negrolea (olive) oil
1 teaspoon of vanilla
¾ cup of melted butter
1 teaspoon of good Achernarean cinnamon (If you can't find it, any will do.  I'll try to remember to send you some next time I send a package your way.)
Mix thoroughly dry with dry and wet with wet, then add dry to wet and mix thoroughly again.  There's no point even trying this with a spoon.  Wash your hands, roll up your sleeves and just dig in.
Place this in large, low-sided pans in a slow oven (around 300 degrees), stirring every so often for a couple of hours or so.  Remove a bit to cool.  If it is crunchy, it's done.  Let it cool, break it up with your fingers and store it in a cool, dark place to keep it fresh.
This is wonderful added to cookies, made into traveling bars, or just eaten out of hand as a snack. I keep some in a container behind my saddle, and my mare likes it as much as I do.