Dearest Eomeoni,
We awoke to a cold, white world this morning.  The steam rising from the river made it seem magical, and the trees were all ribboned along their branches with white satin.  There was a storm last night and the flyers were not allowed in the air, nor did the planetary trains run, so Ardenai's grandparents, Krush's parents, stayed over for a third night. 
Ardi's grandsire, Cutter, is a jovial, easy-going fellow like Krush, but his granddam, Ah'leah, is a ball of fire like Krush's twin brother, Breton.  When she is around things are never quiet and they are never still.  She claps her hands and hurries people along, and sends folks scurrying off in different directions to check on things.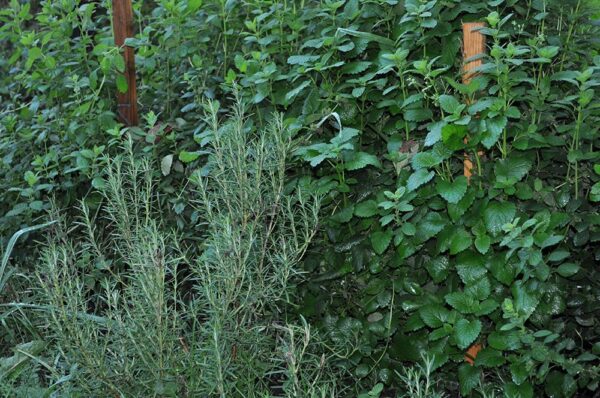 This morning she sent Ah'din and me off to check on the cheeses curing in one of the stone barns.  We hurried through the tunnel, giggling like school girls, and when we got to the area where the cheeses were stored we spent some time unwrapping each one to check its cure. Unwrapping those rounds of cheese was like unwrapping the sun and the moon – so white and so orange.  Din suggested that we bring one of the sharp cures back and make some rosemary cheese bread, so we did.  We had it for supper this evening, and it was wonderful.  I thought perhaps you would like the recipe.
Please give my love to Appa.
Ah'ree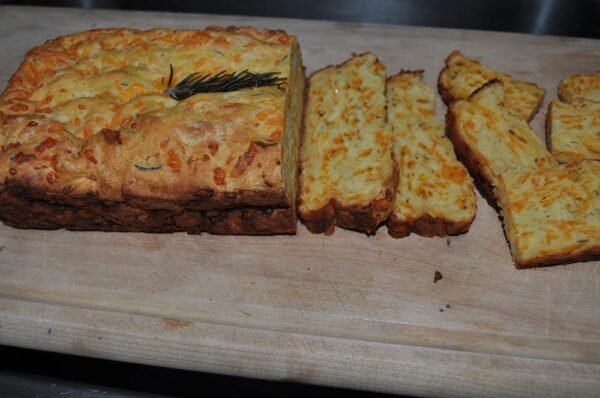 Rosemary Cheddar Bread
You will need:
2 cups of whole grain pastry flour
2 teaspoons of fresh baking powder
2 healthy pinches of good quality salt (about 1 teaspoon)
½ cup of softened butter (Ah'leah says if you substitute another oil the bread will fail.)
1 ½ cups of firmly packed grated sharp cheddar cheese
Egg substitute to equal 2 – 3 well beaten eggs (I know you prefer the real thing, so go ahead – I won't tell on you.)
1 cup of milk, animal or vegetable
1 tablespoon of good honey
2 – 3 tender tips of fresh rosemary to make between a teaspoon and a tablespoon of torn or rough chopped leaves to your taste and a nice spring for garnish.  If you have no fresh rosemary, fresh dill may be substituted.  Dried rosemary is a distant second choice, but acceptable.
Preheat the oven to 350 degrees.  Oil a 9x5x3 inch metal loaf pan.
Sift the dry ingredients together into a large mixing bowl.  Cut the butter into bits and work it into the flour mixture with your clean fingers until it resembles a coarse meal.  Stir in the grated cheese.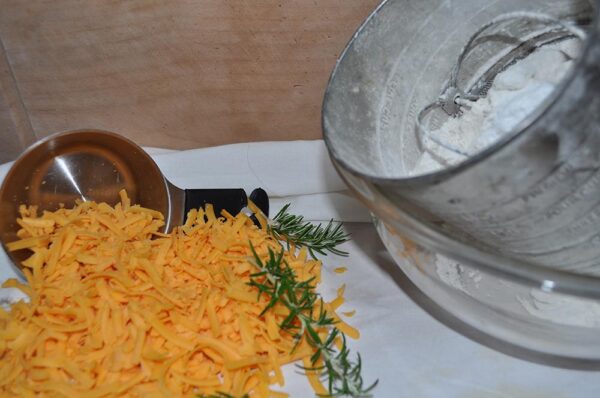 In another bowl combine the wet ingredients, then add them to the dry, followed by the rosemary.  Beat the ingredients until they are thoroughly mixed.  Pour the mixture into the loaf pan and bake for about 50 minutes until the top is nicely browned and a knife or toothpick inserted into the center tests clean.  When the loaf is cool enough to handle, remove it from its pan and allow it to cool on a rack.  If you cut it too soon it will crumble.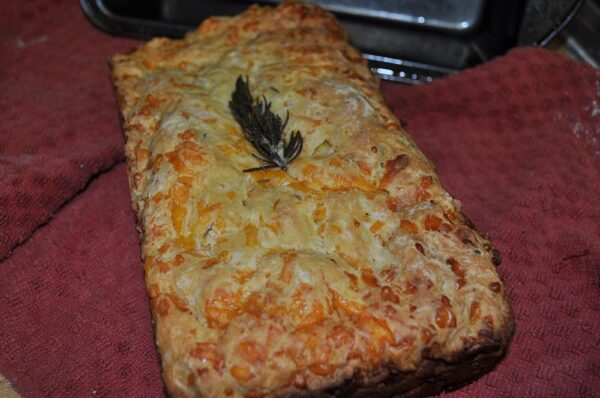 Granddam says this recipe freezes beautifully and you can double the recipe with little effort.