Dearest Amma,
I hope all is well with you and Appa. I was concerned when I heard about the big storms you were having on the peninsula, and I wanted to let you know that we had a big one here, as well.
The ones here involve a lot of lightning strikes. If they are bad enough the trains stop running, and that's what happened a few days ago. Nothing was allowed in the air out of Falconstones, and for the first time, I slept alone in my bridal bed – Ardenai was trapped at school with his students. He was away two nights before the storm let up enough for everybody to go home.
He says they have fun. They do school work, of course, but in the evening they sing and tell stories and put on plays and at bedtime he makes a big, soft nest on the floor and they all put on their night clothes and pile into it.
They cook, too, and he says this is one of his favorite things to make with his students – remember, they're five and six-year-olds. I cannot imagine trying to cook with ten five-year-olds in tow, but he manages it. He fixed this for me when he got home, and he's right, it's very good! I hope you like it! Give my love to Appa.
Your Happily Married Daughter,
Ah'ree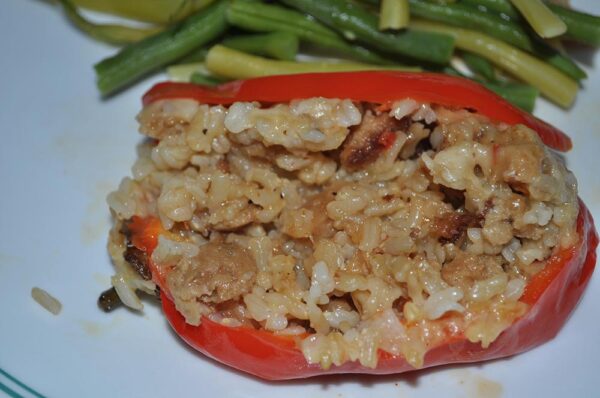 STUFFED SWEET PEPPERS
You will need:

One long, sweet red pepper for each person
1 cup brown jasmine rice
2 cups of a rich broth
Two sage and apple flavored grain meat sausages
¼ cup chopped pome (apple)
¼ cup finely chopped allium (onion)
¼ cup celery chopped fine
1 cup of freshly grated Mozzarella cheese, plus more for topping.
For each serving, slice the top 1/3 off a long, sweet red pepper and clean out the seeds.
Sauté the rice, apple, onion and celery in a little butter until the onion is golden and the rice smells fragrant. Add the broth and cover. Simmer for 45 minutes.
Chop the sausage fine and sauté it separately in a little oil or butter.
When the rice has cooked and cooled just a bit, stir in the sausage and the mozzarella. Pack each pepper, sprinkle with a little extra cheese, and put the top back on.
Bake, covered, in a 350 degree oven for 45 minutes. Using a narrow pan like a loaf pan will help keep the peppers upright.
This recipe will stuff about a dozen medium sized peppers, but the stuffing is excellent on its own, too.