Dearest Amma,
I am learning so much about how things are accomplished around here! Rarely alone, for one thing. As different parts of the harvest come rolling in, everybody gets involved.
You probably noticed when you and Appa came to visit that this huge old house is the centerpiece of the keep, but hardly the only thing here. There are several smaller homes that belong to the people who help keep the place running smoothly. It is such a huge keep, miles in every direction, and yet there are four of these Equi Sunbursts right together along the river, where the four enormous keeps come together. That is called the "Keep Nave." It was designed thousands of years ago so that there were neighbors and extended family in these isolated areas.
The kitchens are as huge as the houses themselves, and a dozen people can easily work together. As foodstuffs are being prepared and preserved for the off-months, there is also cooking going on for the day, and for the immediate needs of the household.
We spent yesterday preparing summer squashes for winter use, and as an extra treat, Ah'din made this absolutely scrumptious cake using some of the squash and some sweet root from the cellar. This is a moist, dense cake, sweet and pretty to look at. My Mother-in-law says it is her husband's favorite Birthing Day cake, and I can see why!
I think I have it converted to where you can use it. I know you still favor duck eggs rather than other leavening, so I had Ah'din help me convert the recipe to use eggs of some sort.
All My Love,
Ah'ree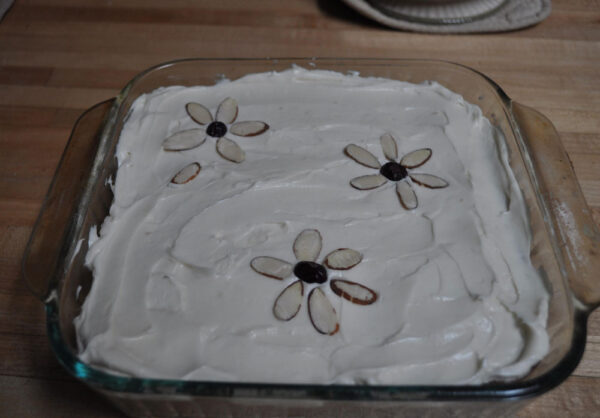 Summer Sweet Cake
CAKE:
2 large "eggs" 1 cup sugar 2/3 cup coconut oil

1 ¼ cups flour 1 tsp baking soda 1 tsp baking powder
1 tsp Achernarean cinnamon
½ tsp good salt
1 generous cup grated sweet root (Carrot works nicely here)
1 generous cup grated green summer squash (like zucchini)
½ cup hemp hearts, (sun flower seeds or chopped nuts work, but not as well)
FROSTING: (If you so desire)
4 ounces cream cheese, softened
3 tablespoons softened butter
1 tsp good quality Viridian vanilla
2 cups sifted confectioner's sugar
To prepare the cake: Beat eggs with sugar until frothy. Gradually beat in oil. Add dry ingredients. Beat at high speed 4 minutes. Stir in sweet root, grated squash, and hemp hearts. Pour into a greased 9 inch square baking dish.
Bake in a 350 degree oven for about 35-40 minutes, or until top springs back when lightly touched. Turn off the oven and let it set up for 5 minutes or so with the door cracked.
To prepare the frosting: In a small mixer bowl blend cream cheese and butter. Add sugar and vanilla. Beat until it comes together and becomes smooth and lighter in color. Spread evenly over cooled cake.