Dearest Amma,
I hope you and Appa are doing well.  I miss both of you very much, but I adore my new husband, and this place is really beginning to grow on me.  I guess that's a pun.  The gardens here are huge, with an orchard and fields of mazea and fodder crops to match. 
It is the season of Enalios here on Equus.  The Equi call it the season of seafaring and heat – those months we would call July and August.  The house, being solid Equi Alabaster, does stay cool, but we spend a lot of time outside working, riding, sailing and taking basket lunches into the woods to gather herbs and various other medicinals.
Everybody cooks in this house.  You probably realized that when you visited.  My father-in-law, Krush makes this salad often.  He says it cools and balances the body, and it is one of his favorites.  Knowing how much you love your fermented goodies, I thought you might like it, as well.  I think I have it translated into things you can acquire.  When you are enjoying it, think of me and know that I am happy here. Give my love to Appa, and save a generous dollop for yourself!
Billing Myself These Days As …
Kabard Ah'ree Ardenai
(I LOVE my new name!)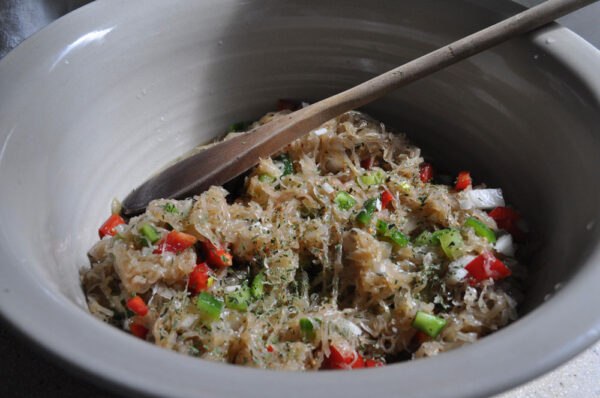 Sour Caulis Salad
(The Equi sour caulis seems to be exactly the same as sauerkraut, or sauer-cabbage.)
Eight cups or two quarts of drained sauerkraut

½ cup chopped onion (what the Equi call Allium)
1/2 cup chopped celery
Two large green sweet peppers and two large sweet red peppers cut finely into strips or rough chopped
1 cup of white wine vinegar
1 cup of extra virgin olive oil (I think it's the same as Equi negrolea oil)
2 teaspoons of mustard seed
Mix everything together thoroughly and store it in a cold box for a few hours before using.  Krush says it keeps for weeks in the cold box, but it never lasts that long.
We are a big, multi-generational family, so this recipe makes a lot.  It is easily cut in half or adjusted to your own personal taste.